Don Song Lyrics – Gulzaar Chhaniwala
Don song lyrics are written by Gulzaar Chhaniwala who has alos directed by its videoDon Lyrics by Gulzaar Chhaniwala is latest Punjabi song with music also given by him.
The video of Gulzar Chhaniwala's Haryanva song 'Don' has been released on YouTube. The song was sung and composed by Gulzar Chhaniwala. The video of the song is becoming quite popular on YouTube. The song can be viewed 1,336,226 times so far.
गुलज़ार छानीवाला का डॉन गीत नवीनतम हरियाणवी गीत है और जिसे गुलज़ार छनिवाला द्वारा गाया और संगीतबद्ध किया गया है, जबकि डॉन गीत के बोल भी गुलज़ार छनिवाला द्वारा लिखे गए हैं और संगीत वीडियो भी उनके द्वारा निर्देशित है।
DON LYRICS – GULZAAR CHHANIWALA – Gulzaar Chhaniwala Lyrics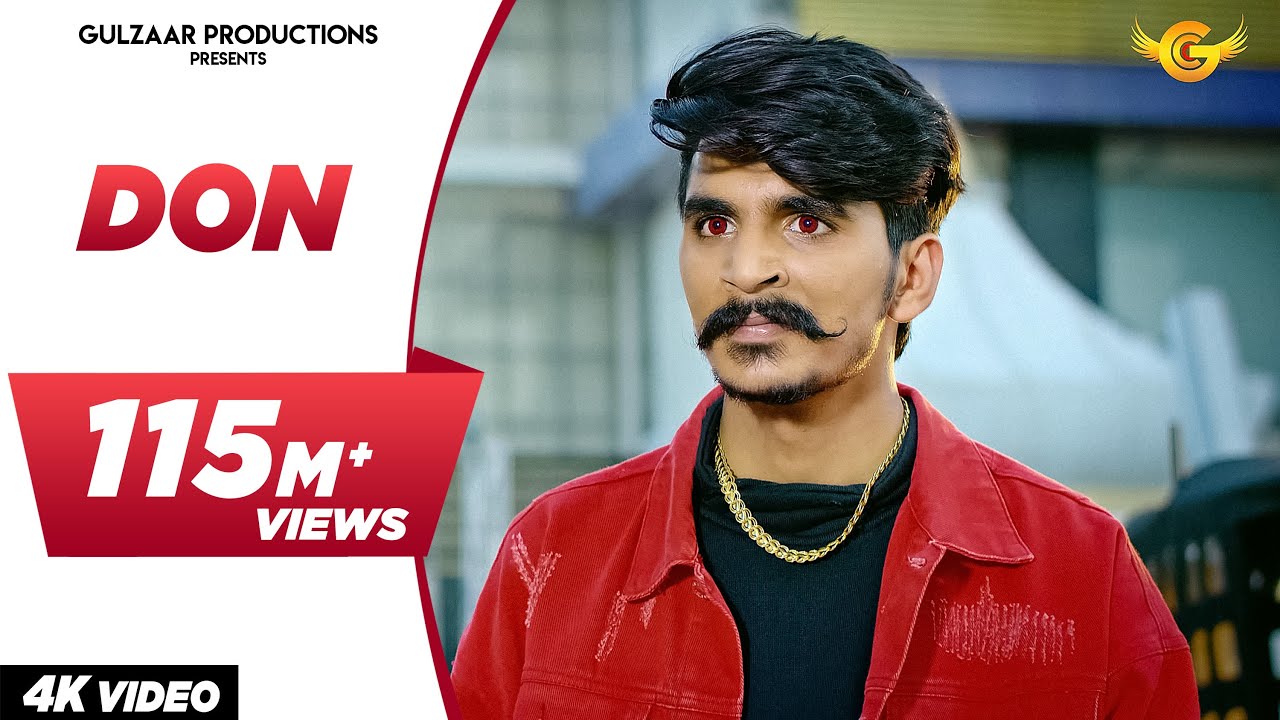 | | |
| --- | --- |
| Singer | Gulzaar Chhaniwala |
| Singer | Gulzaar Chhaniwala |
| Music | Gulzaar Chhaniwala |
| Song Writer | Gulzaar Chhaniwala |
DON SONG LYRICS
Shiv Tandav gaddi mein baja liya
Tanne yaad kara le main aa liya

Shiv Tandav gaddi mein baja liya
Tanne yaad kara le main aa liya
Yaar baithe central Dilli mein
Program bitha dyange
Jis don ke gelya ghumme tu
Uss te marwa dyange

Re na tu chhed desiyan ne
New zone bana dyange
Jis don ke gelya ghumme tu
Uss te marwa dyange

Veere tal ja re, tal ja re, tal ja re
Laadle re udte na le liye
Jal jayega, jal jayega, jal jayega laadle re
Aag te na kheliye

Jet black dil paave mote mote bill
White colour'an aala ke
White colour'an aala ke
Arre neta ghairan gunda ghairan
Paali manne wadde wadde
Dollor'an aala ke wadde Dollor'an aale ke

Re gaddi chaldi ne kaun saala rok ja sa
Maameya ne pata ke rakh de
Re ek shaukiyan se rakhi Magnum
Seat mein daba ke rakh de oye oye oye
Re ek shaukiyan se rakhi Magnum
Seat mein daba ke rakh de

Je udti konya baat meri
Tanne ni lena tha panga re
Latte taaru na bete
Ba taate kar deyu bete nanga main
Teri ger ke asthi Ganga mein

Re teri ger ke asthi Ganga mein
Pind daan kara dyange
Jis don ke gelya ghumme tu
Uss te marwa dyange

Re na tu chhed desiyan ne
New zone bana dyange
Jis don ke gelya ghumme tu
Uss te marwa dyange

Lalla lalla lalla
Lalla lalla lori oye
Ek chhora ki story oye
Woh bair mere te kar gaya oye
Pher ke tha mar gaya oye

Goli chali gaam mein
Arre roda deve shehar mein
Tere sath aale sathi manne
Khaat tange nehar mein
Jo dole dhoye jaande
Oh to paa gaya to vi jeena nai
Arre tere te bhunde baithe ja tu
Kuchh bhi kameena ni haaye

Ke samjha
Ib aage sunn
Aa ha

Re ghanta kuchh paatna na mera laadle
Par tera imme loss thoda zyada ho jayega
Re ib aaya su main to ae tera dil dehal gaya
Thoda datt raaziname da irade ho jayega

Je main kaun su re tere dass jaan gaye
To tera aale phone dhar de
Re goli maarna to bahot door se
Le khadeya aaja touch kar de

Aaja

Goli maarna to bahot door se
Le khadeya aaja touch kar de

Hu ha ha ha
Dekheya kaha tha na keh ke leyunga
Ke
Jaan darling

Jo denge tanne maut teri te
Gaama mein hi reha kare
Saare usne Chhaniwala
Ram Ram

Ha re saare usne Chhaniwala
Chhaniwala keha kare
Aa jaiye Rajasthan
Teri photo karwa dyange
Jis don ke gelya ghumme tu
Uss te marwa dyange

Re na tu chhed desiyan ne
New zone bana dyange
Jis don ke gelya ghumme tu
Uss te marwa dyange
---
---
Gulzaar Chhaniwala Don Song Video
---
Song – DON Singer- Gulzaar Chhaniwala Lyrics- Gulzaar Chhaniwala Music- Gulzaar Chhaniwala Mixing Mastering- Gulzaar Chhaniwala Dop/Edit/DI- Shiva Jangra Director/Screenplay/Concept – Gulzaar Chhaniwala
---
Aaj Mere Yaar Ki Shaadi Lyrics